ON CLOUD NINE
February 4, 2023 | 7:00 – 11:30 PM
Morgan Manufacturing | 401 N. Morgan Street
Premium tickets are now sold out, but you can still join us by purchasing a ticket for general admission. We look forward to seeing you at On Cloud Nine!
On Cloud Nine
February 4, 2023
---
After a three-year hiatus, we are happy to announce the return of our signature cocktail event. Whether you're a returning guest or new to the party, we can't wait to see you at the 23rd annual On Cloud Nine!

Your support of this event will directly benefit the students of Horizons for Youth. For sponsor opportunities and benefits, scroll down to learn more!
Know Before You Go
To prepare for the event, we are sharing some details ahead of time that may be helpful for you and your guests. Please pass this important information along.

LOCATION: Morgan MFG | 401 N. Morgan Street, Chicago, IL 60642
PARKING: Valet parking is available for $20 at the main entrance. Street parking is limited on Morgan and Hubbard St.
SCHEDULE: 7:00PM: Doors Open | 8:30PM: Raffles close | 8:45PM: Program followed by a toast to Paige and Lauren
Please pre-register for the event to facilitate check-in at the door! Look out for an email and/or text from our friends at AES who will be sending you a link to register.

For questions or guest changes, email us at: development@horizons-for-youth.org or call Amanda Hasse at (847) 431-2275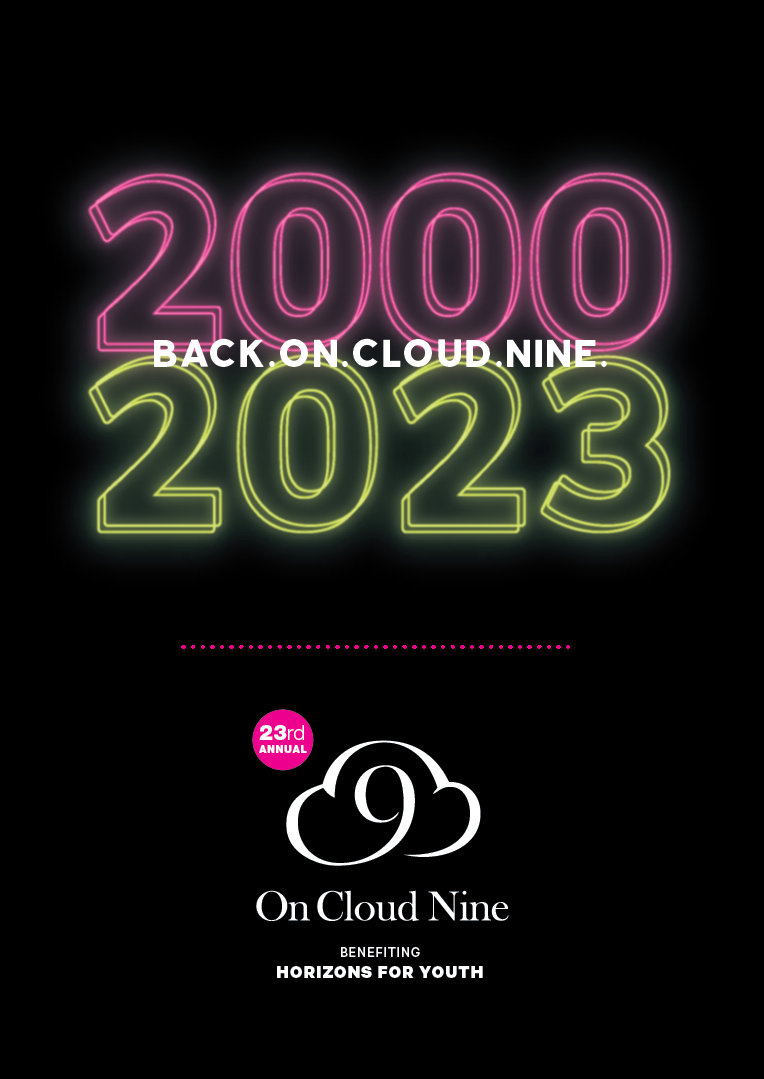 Sponsor the Event
On Cloud Nine has raised over $6.1MM over 22 years, enabling Horizons for Youth to grow from 42 students in 2000 to over 200 students, kindergarten through college, today.
This event has been a resounding success thanks to the generosity of our donors. We ask you to consider joining our efforts by becoming a sponsor of the 23rd annual On Cloud Nine. Sponsors receive exclusive benefits such as event tickets, premium lounge access, features at the event, and more!
Our 2023 Sponsors
a5
Advanced Group
American Backhoe Service & Excavating
Anonymous
The Barnett Family
Phil Barnett & Colleen Philbin
Paul & Kate Bradley
Rocky & Anne Carey
The Coffey Family & Fresh Wave
Deloitte
Steve & Laura Derks
Exelon Foundation
Gilbane Building Company
Greg Desmond & Michael Segobiano
Greg & Julie Dingens

The Horrigan Family
Jackson National
Kim & Ron Lemar
Brian & Molly Liston
Patrick & Lydia Ryan
Rex Carton Co. Inc.
Sidley Austin, LLP
The Sir Family
Stern Cassello & Associates LLP
The Thomas & Christina Grusecki Foundation
Vogue Tyre & Rubber Company
Winston & Strawn LLP
2023 Event Committee
CHAIRS
Kent, Zach & Dylan Barnett

COMMITTEE MEMBERS
Eric Barnes
Jody Barnes
Hannah Barnett
Matthew Gallo
Clarice Harris
Susie Heath
Meredith Houska
Mary Joss
Mike Joss
CO-CHAIRS
Greg Desmond & Mike Segobiano

COMMITTEE MEMBERS
Chris Kelleher
Sam LaBarbera
Leo Latz
KC Maddock
Erin Moston
Colleen Philbin
John Philbin
Veronica Roscoe

Event's History
On Cloud Nine was founded in 2001 to honor the memory of Paige Barnett, who passed away at the age of 18 months on February 2, 2000. The event, established by Paige's parents, Kent Barnett and Lauren Heath, supports the children of Horizons for Youth. On Cloud Nine also now pays tribute to Lauren Heath, who passed away in July of 2015, after a courageous battle with brain cancer.
Our work would not be possible without our generous supporters. To donate to Horizons for Youth and keep the legacy of Lauren and Paige alive, please visit our donate page below.