ON CLOUD NINE
SAVE THE DATE
February 4, 2023 | Morgan Manufacturing
On Cloud Nine
February 4, 2023
---
Make sure you sign up for our newsletters and follow-us on social media to stay updated!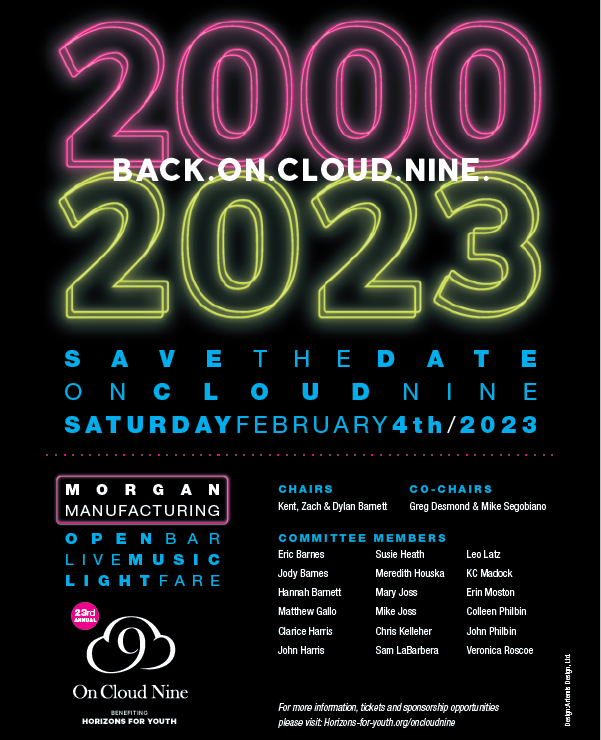 Sponsor the Event
On Cloud Nine has raised over $6.1MM over 22 years, enabling Horizons for Youth to grow from 42 students in 2000 to over 200 students, kindergarten through college, today.
This event has been a resounding success thanks to the generosity of our donors. We ask you to consider joining our efforts by becoming a sponsor of the 23nd annual On Cloud Nine.
Our 2023 Sponsors
Thanks so much to our sponsors who have pledged for On Cloud Nine 2023 thus far!
The Barnett Family
Rocky & Anne Carey
Gilbane Building Company
Pat & Lydia Ryan
The Sir Family
Vogue Tyre & Rubber Company
2023 Event Committee
CHAIRS
Kent, Zach & Dylan Barnett

COMMITTEE MEMBERS
Eric Barnes
Jody Barnes
Hannah Barnett
Matthew Gallo
Clarice Harris
Susie Heath
Meredith Houska
Mary Joss
Mike Joss
CO-CHAIRS
Greg Desmond & Mike Segobiano

COMMITTEE MEMBERS
Chris Kelleher
Sam LaBarbera
Leo Latz
KC Maddock
Erin Moston
Colleen Philbin
John Philbin
Veronica Roscoe

Event's History
On Cloud Nine was founded in 2001 to honor the memory of Paige Barnett, who passed away at the age of 18 months on February 2, 2000. The event, established by Paige's parents, Kent Barnett and Lauren Heath, supports the children of Horizons for Youth. On Cloud Nine also now pays tribute to Lauren Heath, who passed away in July of 2015, after a courageous battle with brain cancer.
Our work would not be possible without our generous supporters. To donate to Horizons for Youth and keep the legacy of Lauren and Paige alive, please visit our donate page below.