ON CLOUD NINE
Thank you for this year's event.
We'll see you on February 3, 2024!
Thank you for celebrating!
---
We are extremely grateful to all who supported the 23rd annual On Cloud Nine. We felt the energy radiate through the room and were happy to have everyone in person again!

We have a generous donor who has offered to match up to $10,000 received this week. If you weren't able to make your donation, please know it's not too late! Your support of this event will directly benefit the students of Horizons for Youth. We can't wait to see you next year.
Photos of the Event
Pictures of the event are now available! Click the buttons below to see pictures from the photo booth and from the event. Password to access photo booth pictures: OC92023

Don't forget to tag @horizonsforyouth on social media if you share your photos!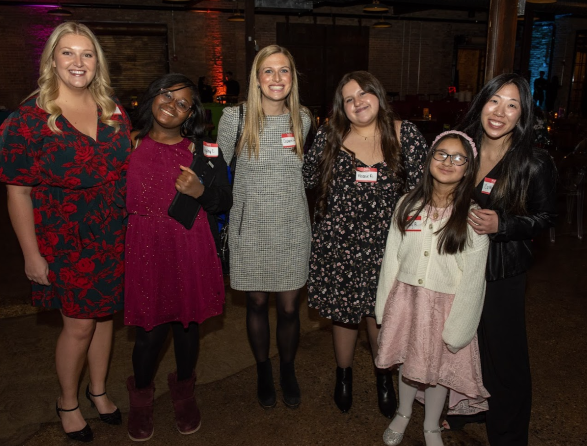 Our 2023 Sponsors
a5
Advanced Group
American Backhoe Service & Excavating
Anonymous
The Barnett Family
Phil Barnett & Colleen Philbin
Paul & Kate Bradley
Rocky & Anne Carey
The Coffey Family & Fresh Wave
Deloitte
Steve & Laura Derks
Exelon Foundation
Gilbane Building Company
Greg Desmond & Michael Segobiano
Greg & Julie Dingens

The Horrigan Family
Jackson National
Kim & Ron Lemar
Brian & Molly Liston
Patrick & Lydia Ryan
Rex Carton Co. Inc.
Sidley Austin, LLP
The Sir Family
Stern Cassello & Associates LLP
The Thomas & Christina Grusecki Foundation
Vogue Tyre & Rubber Company
Winston & Strawn LLP
2023 Event Committee
CHAIRS
Kent, Zach & Dylan Barnett

COMMITTEE MEMBERS
Eric Barnes
Jody Barnes
Hannah Barnett
Matthew Gallo
Clarice Harris
Susie Heath
Meredith Houska
Mary Joss
Mike Joss
CO-CHAIRS
Greg Desmond & Mike Segobiano

COMMITTEE MEMBERS
Chris Kelleher
Sam LaBarbera
Leo Latz
KC Maddock
Erin Moston
Colleen Philbin
John Philbin
Veronica Roscoe

Sponsor the Event
On Cloud Nine has raised over $6.1MM over 22 years, enabling Horizons for Youth to grow from 42 students in 2000 to over 200 students, kindergarten through college, today.
This event has been a resounding success thanks to the generosity of our donors. We ask you to consider joining our efforts by becoming a sponsor of the 23rd annual On Cloud Nine. Sponsors receive exclusive benefits such as event tickets, premium lounge access, features at the event, and more!

Event's History
On Cloud Nine was founded in 2001 to honor the memory of Paige Barnett, who passed away at the age of 18 months on February 2, 2000. The event, established by Paige's parents, Kent Barnett and Lauren Heath, supports the children of Horizons for Youth. On Cloud Nine also now pays tribute to Lauren Heath, who passed away in July of 2015, after a courageous battle with brain cancer.
Our work would not be possible without our generous supporters. To donate to Horizons for Youth and keep the legacy of Lauren and Paige alive, please visit our donate page below.